Deck Builders in St. Louis, MO
Low-Maintenance Decks. Beautiful Outdoor Living Spaces.
Bring the comfort you enjoy inside your home to the outdoors. With popular, natural-looking colors to complement your style and decking materials built to resist the elements, it's easy to create your ideal outdoor space and keep it looking like new, season after season.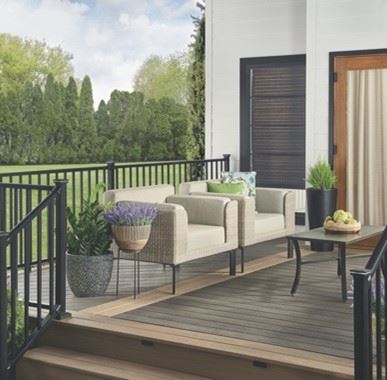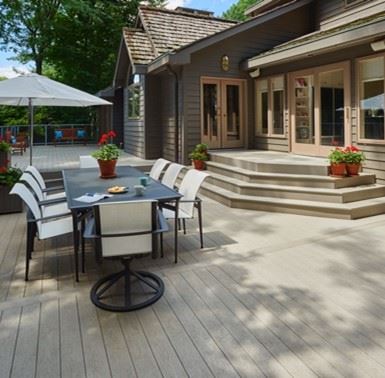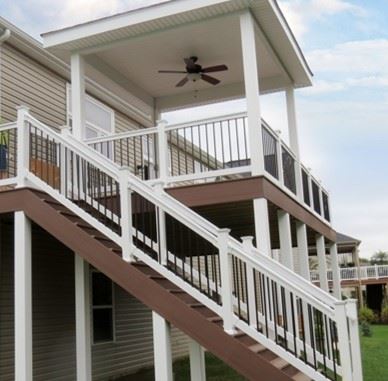 Our Decks Are Custom Designed to Deliver the Atmosphere You Desire
We configure decks to compliment your existing home, property, or structure's architecture. Our St. Louis deck installation specialists at STL Fenceworks are able to construct a personalized deck solution that not only matches your aesthetic goals, but also serves as a durable structure that increases the value of your home.
Improve the appearance and value of your home:
Custom low-maintenance PVC decks
Railings
Pergolas
Under-deck ceilings
What are The Benefits of a Custom-Designed Deck?
A deck can serve as a great place to entertain friends, a perimeter for a pool, a foundation around a spa, or a beautiful outdoor living area. Our deck systems can help maximize your yard space and unleveled terrain. We pay attention to the details to make certain that your deck is fabricated to be a lasting addition to your home.
What Type of Wood or Composite Material is Best Suited for St. Louis Weather Conditions?
When choosing the material for a deck in St. Louis, it's important to consider the region's climate. St. Louis has hot summers and cold winters with high humidity levels that can be tough on decks. To ensure the deck lasts a long time, it's recommended to use materials that are strong and can withstand the changing temperatures and moisture.
Good options for decks in St. Louis include cedar, redwood, and composite materials like Trex, which are resistant to insects, moisture, and weather damage. It's also important to properly seal and maintain the deck to prevent damage and make it last longer.
Highest Quality to Add Lasting Value
We know that a deck should not only look good but should perform as well. To ensure a durable result with longevity and functionality, we always utilize the best products, industry-approved installation technologies, and highest-quality materials. Though we don't skimp on quality, we also focus on value! We keep your costs low and adhere to any budget or time frame.
When you need a St. Louis deck builder, you need STL Fenceworks. Send us a message or call 636.669.1608 to request your FREE estimate.
Our Superior, Low Maintenance Deck Products
Wolf Serenity™ Decking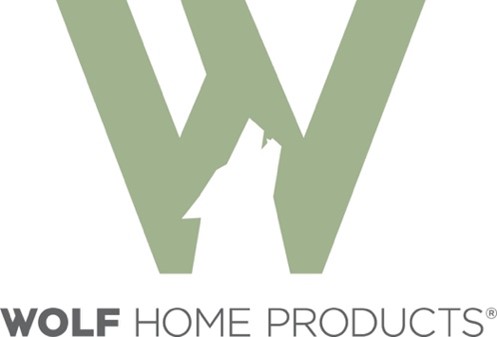 Create an outdoor sanctuary with Wolf Serenity Decking. Enjoy your deck without the fuss of caring for wood. The Wolf Serenity Decking collection is a low-maintenance solution backed by a 50-year stain and fade warranty, so you can expect long-lasting beauty. Find out more at WolfHomeProducts.com.
Repels Moisture and Maintains Color for Long-Lasting Beauty
Wolf Serenity Decking is a durable, weatherproof alternative to wood that is easier to preserve and protect from the elements. However, going with a synthetic product doesn't have to mean giving up the natural look you love. Wolf Serenity Decking mimics the look of real wood and is available in Golden Cypress, Amberwood, Black Walnut, Onyx, Rosewood, Weathered Ipe, Teakwood, and Sandcastle, among others. All Wolf Serenity Decking features our ColorWatch100® Technology — a premium finish that offers long-term protection against harmful UV rays, so your purchase will retain its original luster, season after season.
Wolf Serenity Decking Features
Premium ASA ColorWatch100® Technology provides industry-leading color retention
Moisture, mold and mildew resistance
Authentic color and texture of real wood
Resists rotting, delaminating, splitting and cracking
Strong and durable, yet very lightweight
Easy to install using traditional and hidden fastening systems
Reversible 1" x 5 ½" deck boards available in 12', 16' and 20' lengths as well as ½" x 11 ¾" x 12' rimboards
ICC Code Compliant – ESR-2824
COLORWATCH100® TECHNOLOGY
Wolf Serenity Decking features a proprietary ColorWatch100® premium ASA capstock, which helps block harmful UV rays to promote color retention — even in the dog days of summer.
If you are interested in learning more about our customized deck options and solutions for your home or commercial property, contact STL Fenceworks. Our deck builder in St. Louis can get you started with a FREE estimate.
PORTFOLIO
We Can Help Build Your Perfect Outdoor Space

TURN TO THE PROS
Your Satisfaction Is Our Passion™
Our crews are well trained in their distinct fields to be the best installers in the area.

Our focus is delivering quality work at a reasonable cost.

We maintain an A+ rating from the BBB.

We've served our customers since 1971 with American craftsmen & top-quality American made products.